Bill for Neptune & Galatea marble panel and chimneypiece
Creator(s): Grinling Gibbons 1648-1721
Date: 18th July 1701
Materials: Work on paper
Location: Bowhill, Selkirk, Scottish Borders, TD7 5ET
Credit Line (copyright notice for material) : The Buccleuch Collections/By kind permission of the Duke of Buccleuch & Queensberry, KT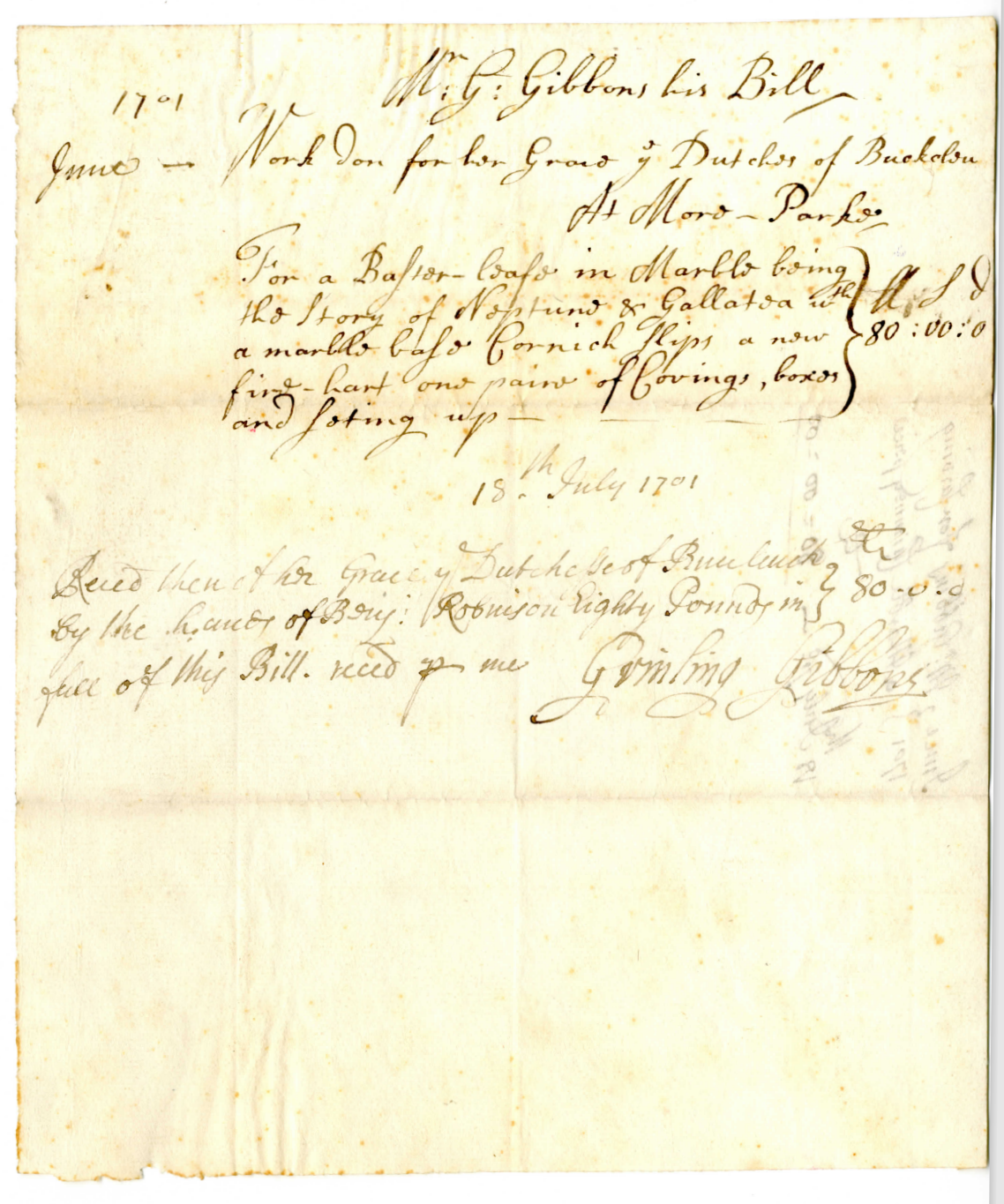 NOTES ON THE ARTWORK
---
Bill written by Gibbons for 'work done for her Grand Duchess of Buccleuch at Moor Park'. The bill is for the production of a marble chimneypiece comprising a bas-relief panel of the story of Neptune and Galatea, as well as a marble base, cornice and slips (to surround the panel), a new fire hearth, one pair of covings, boxes (packing) and setting up which had a total cost of £80.00. The bill was issued in June 1701, and paid on 18th July and signed by Grinling Gibbons to acknowledge receipt of payment.
While the original location of the chimneypiece was Moor Park, Herefordshire, it was later transferred by the Duchess to Dalkeith Palace. Moor Park was rebuilt in 1678–1679 for James Scott, 1st Duke of Monmouth, and inherited by his wife, Anne Scott, 1st Duchess of Buccleuch, after he was beheaded.
To see the Neptune and Galatea Panel to which this bill refers click here.
Further reading: Sally Jeffrey, 'Grinling Gibbons's Chimneypieces for the Duchess of Buccleuch', The Georgian Group Journal, Vol. XXIV, 2016, pp. 1-22