Cornice portion
Creator(s): Unknown, formerly attributed to Grinling Gibbons
Date: c1680
Accession Number: W.46-1926
Dimensions: Height: 205 cm, Width: 208.5 cm, Depth: 19 cm incl. modern moulding
Materials: Carved oak
Location: V&A, on display Furniture, Room 133, The Dr Susan Weber Gallery, case BY9, shelf WALL
Credit Line (copyright notice for material) : © Victoria and Albert Museum, London
Online Catalogue Entry : http://collections.vam.ac.uk/item/O369138/cornice-portion-unknown/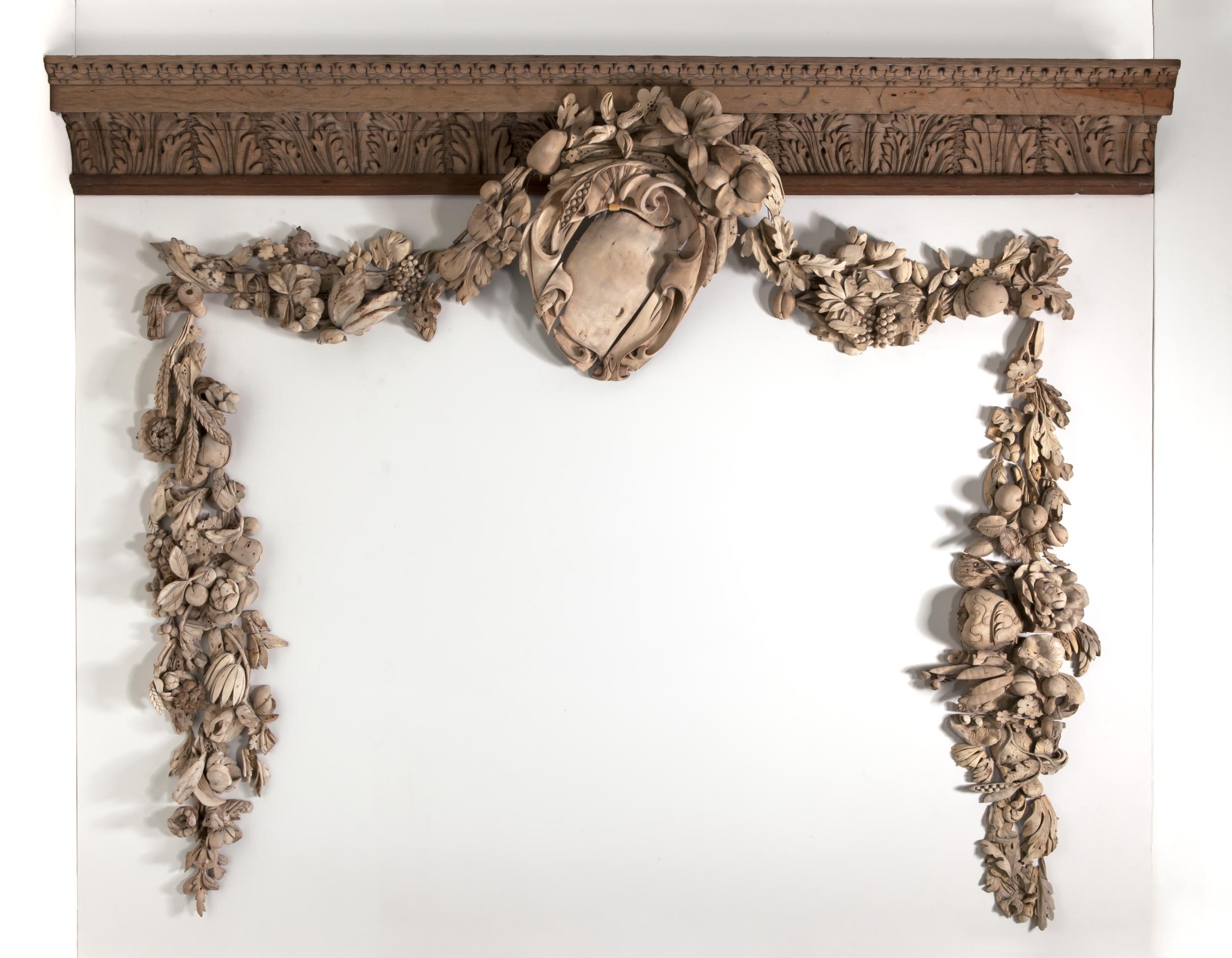 NOTES ON THE ARTWORK
---
The section of cornice consists of the following mouldings, top to bottom:
a modern waterleaf above bead and reel
a modern vertical flat face
a recessed cavetto carved in shallow relief with acanthus leaves
a modern ogee(?) to conceal the gap between the cornice and the backboard
The original cavetto consists of two sections, one horizontal 'ceiling', one vertical 'wall' which are held by nail within the right angle formed by two supporting (concealed) planks. On the back of the vertical 'wall' supporting plank are cut vertical bands which probably fitted over nogging fixed on the structural walls. Note that the 1926 V&A configuration of cornice and carving appears to place the cornice too high relative to the carving (as seen in pre-1914 photographs, which show the upper part of the shield in front of the cornice). The modern waterleaf above bead and reel appears to approximate to the moulding visible in pre-1914 photographs.
This section of oak cornice came from the dining room at Cassiobury Park, which can be seen in early 20th century photographs running around the walls just below the coved plaster ceiling. When the Museum acquired an overdoor picture-surround in limewood by Grinling Gibbons (W.47-1925) from that room, this section was provided by the vendor, 'so as to complete the design'. The lack of documents relating to Gibbons work at Cassiobury means that we do not know who supplied the panelling and cornice.
Object history note
Given by Edwards & Sons, 157-161 Regent Street, London W1 (RF 26/5439)..
Note from Clifford Smith to Brackett (31/5/1926) records that Clifford Smith and Brackett selected the two items (frame and overdoor) and that Edwards agreed to give a piece of original carved cornice "same width as the overdoor", from the great dining room so as to complete the design, to be "pickled at once, so as to get it the same tone as the carving"
A minute paper by Oliver Brackett(?) (1/6/1926) records:
"This is a most generous proposal to present to the Museum two examples of woodcarving by the school of Grinling Gibbons, removed from Cassiobury Park, Hertfordshire. I saw the carvings more than once in their original position and they are certainly of historic importance. They were removed and sold a few years ago and the remains of them are now in the hands of Mr. Edwards of Regent Street and Robertsons of Knightsbridge. Mr. Clifford Smith and I have been to see the carvings at both places and finally selected two examples coming within the figure of £400 which Mr. Lloyd has proposed to spend. The carvings of the house were originally sold for a very large sum and the most important examples are still priced at about £800. We have no doubt that the overmantel and frame are the best examples that can be obtained for the money at our disposal.
The overmantel which we have selected, as it was shewn to us, seemed to me to be incomplete and unsatisfactory without the cornice moulding. Mr. Edwards, of Regent Street, has kindly offered to add a section of moulding after it has been pickled, and I think we should write and thank him as well as Mr. Lloyd."