A Putto holding the Crown and Coat of Arms of Scotland
Creator(s): Grinling Gibbons 1648-1721; Arnold Quellin born 1653 (style of)
Date: c1686
Accession Number: A.3-1973
Dimensions: Height: 95.9 cm, Width: 69.1 cm, Depth: 11 cm Overall depth including projecting relief, Weight: 100 kg
Materials: Marble
Location: V&A
Credit Line (copyright notice for material) : © Victoria and Albert Museum, London
Online Catalogue Entry : http://collections.vam.ac.uk/item/O127103/a-putto-holding-the-crown-putto-gibbons-grinling/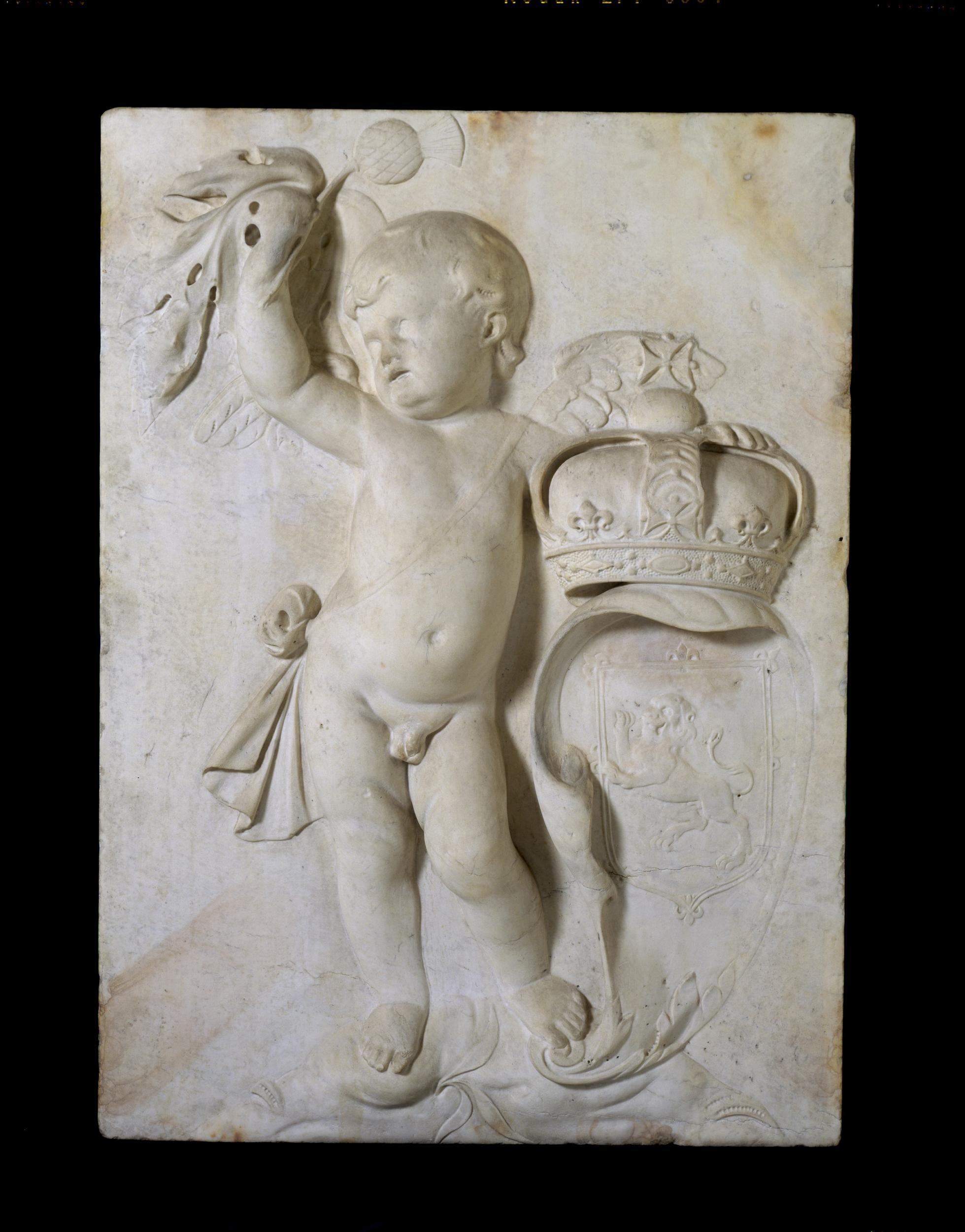 NOTES ON THE ARTWORK
---
Marble relief of a putto with the crown and coat of arms of Scotland, in the style of Arnold Quellin or Grinling Gibbons, England, ca. 1686. The naked putto looking towards his right, stands on a leafy mound. In his raised right hand he brandishes a thistle. With his left he supports a crown which surmounts a large auricular cartouche. On the cartouche there is a lion rampant. Fracture across the top right corner. The surface of the marble is weathered.
This relief forms a pair with that showing a putto holding the crown and coat of arms of Ireland (Museum no. A.4-1973). The shape, subject and style of both suggest they may have formed part of an altarpiece erected in Whitehall Palace during the short reign of James II, who was a Roman Catholic.
The altarpiece at Whitehall Palace was dismantled following the fire of 1695, and re-erected as the high altar of Westminster Abbey in 1706. In about 1820 it was moved to Burnham-on-Sea, in Somerset. The figurative style of the putti recalls both the surviving fragments from the altarpiece at Burnham-on-Sea, and other known works by Grinling Gibbons and Arnold Quellin.
Although celebrated as a carver of wood sculpture, Gibbons also produced a number of marble church monuments. During the period in which Quellin worked with Gibbons, some particularly fine pieces were produced; Quellin had been trained in the Netherlands and was highly skilled as a marble carver. Gibbons may have met him in Amsterdam, where he too probably trained.
Bibliographic References (Citation, Note/Abstract, NAL no)
Beard, G. The Work of Grinling Gibbons, London, 1989, pp. 26 and 196.
Cocke, T. 900 Years: The Restoration of Westminster Abbey, (Exhibition Catalogue), London, 1995, pp. 125-6
Bilbey, Diane with Trusted, Marjorie. British Sculpture 1470 to 2000. A Concise Catalogue of the Collection at the Victoria and Albert Museum, London, 2002, pp. 10-11, cat. no. 12.