Study of the stern of a Dutch states yacht
Creator(s): François van Douwe (1659-1735)
Date: c.1700
Materials: Work on paper; Pen, brown pen and wash
Credit Line (copyright notice for material) : © Henry Kriegstein Private Collection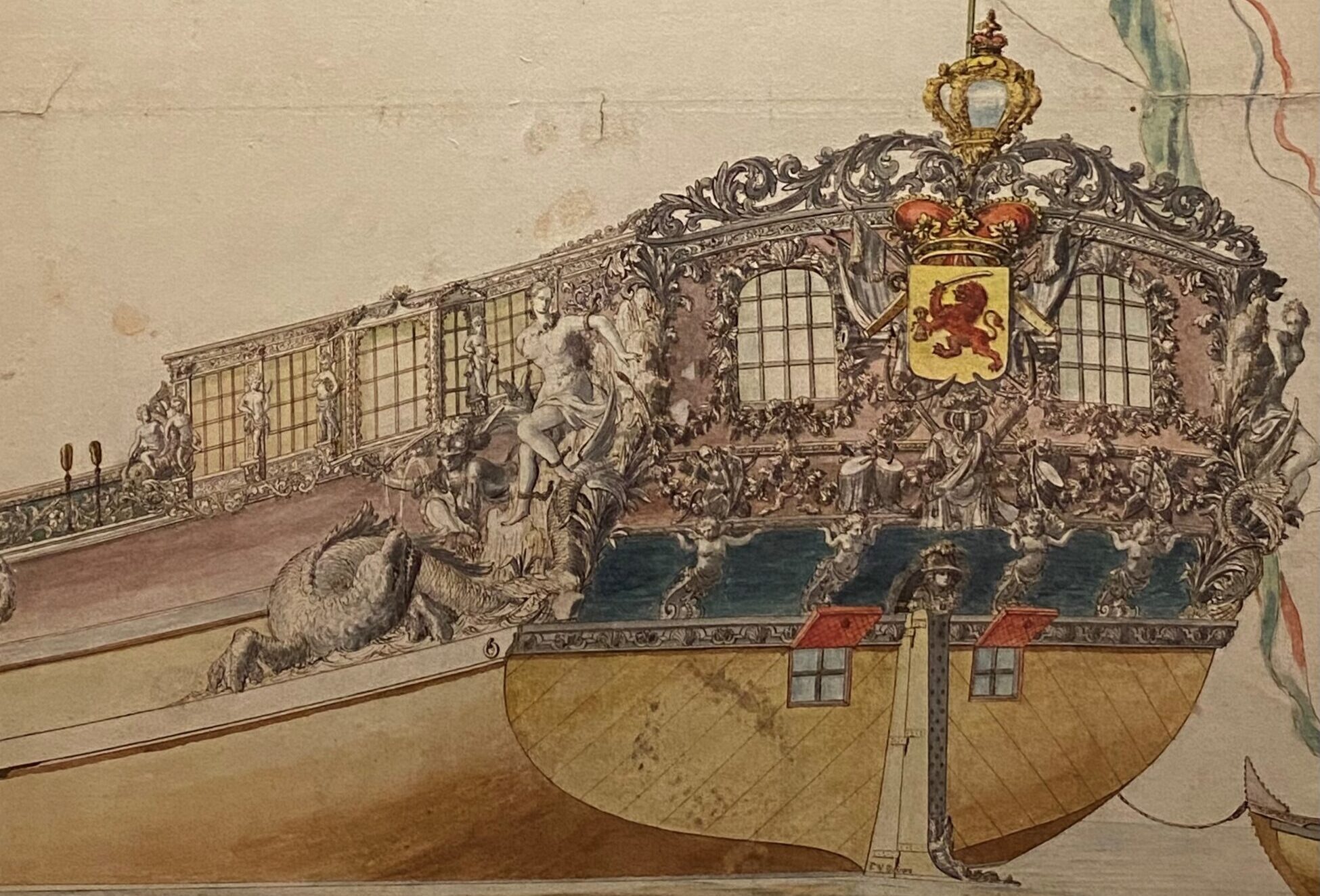 NOTES ON THE ARTWORK
---
Grinling Gibbons was born in 1648 in Rotterdam. This port town was a commercially thriving centre for the Anglo-Dutch with an important ship-building industry requiring highly-skilled carvers. Historically it has been assumed that Gibbons' entry into the carving profession took place further afield in Amsterdam under the foremost sculptor, Artus Quellinus (1609-1668). However, it is also possible that Gibbons was apprenticed locally to Rotterdam's leading wood and stone carver, Willem van Douwe, whose workshop was close to the Gibbons family home.
This drawing of a Dutch states yacht is by François van Douwe, Willem's son, who took over the workshop and worked not only for the Rotterdam Admiralty but other institutions and individuals in the Netherlands and abroad, including William III. His oeuvre was broad and was not limited to ship carving. François worked also in stone and was a good draughtsman.
State yachts were elaborately-furnished, luxury vessels used exclusively by important people, and offered the most comfortable means of transport at the time. Van Douwe's study reveals how rich the carved decoration of such vessels was and the virtuosity of the carving required in their ornamentation. If Gibbons' had indeed been apprenticed to the Van Douwe family he would have been exposed to the highest quality craftsmanship. Indeed incorporated in the yacht's design are foliage, putti and trophies, all of which featured extensively in Gibbons' own carvings across his career.
Further reading: Ada De Wit, 'Grinling Gibbons and his Contemporaries (1650–1700): The Golden Age of Woodcarving in the Netherlands and Britain', 2022.