The Stoning of St Stephen
Creator(s): Grinling Gibbons 1648-1721
Date: c1680-1710
Accession Number: 446-1898
Dimensions: Height: 185 cm, Width: 121 cm
Materials: Carved limewood and lancewood relief, with later paint
Location: V&A, on display in British Galleries, Room 54, case 8
Credit Line (copyright notice for material) : © Victoria and Albert Museum, London
Online Catalogue Entry : http://collections.vam.ac.uk/item/O8867/the-stoning-of-st-stephen-woodcarving-gibbons-grinling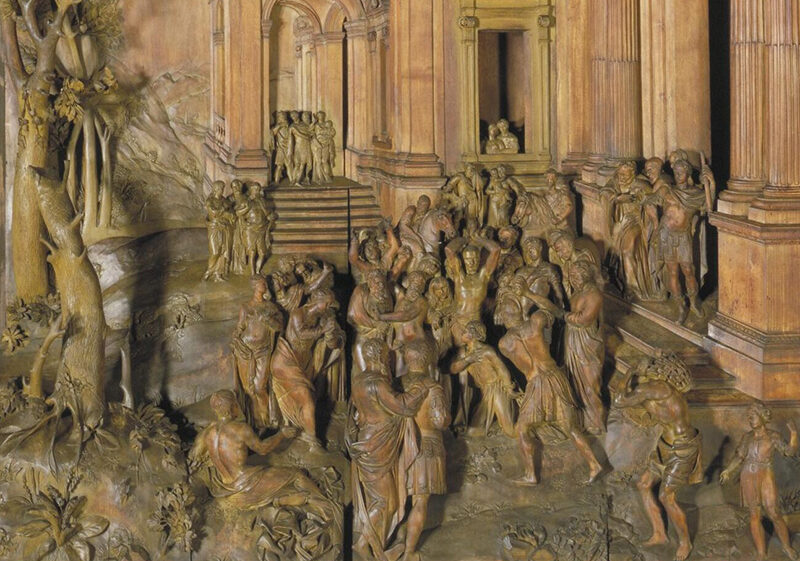 NOTES ON THE ARTWORK
---
This limewood and lancewood panel is carved by the sculptor Grinling Gibbons in ca. 1690-1710. This virtuoso piece of wood carving is made up of layers of wood fitted together. The fanciful architecture and use of perspective are reminiscent of slightly earlier continental (especially the French and Italian) painting. In the foreground there is a large group of figures, two on horseback, surrounding the dying saint, and behind are two buildings of classical design, in which are more spectators. On the left are trees, and in the background a landscape with heavy clouds.
The panel was a decorative object, designed to be displayed on a wall. In this respect, it was like the famous panel in the Pitti Palace, Florence, which was made by Gibbons as a diplomatic gift from Charles II to Cosimo de' Medici, Grand Duke of Tuscany. Although the subject is biblical, it may well have been intended for a secular context, rather than as a devotional piece. No record has survived of the commission for this piece. It seems to have remained in the artist's possession and was probably included in the sale of his effects that took place shortly after his death in 1722. It may have been bought at the sale by James Brydges, 1st Duke of Chandos, for his house at Cannons, Middlesex. The panel shows the Stoning of St Stephen, the first Christian martyr. He was put to death after arousing the wrath of the legislative council in Jerusalem by his sermon arguing for the divinity of Christ (Acts of the Apostles 7: 2-56). Stephen was one of the first seven deacons appointed by the Apostles, and is here shown in simple robes, in contrast with the classical dress of those stoning him. He is looking up to Heaven at a vision of Christ.
Grinling Gibbons (1648-1721) was born in Holland and probably studied under Artus Quellinus I (1609-1668) before he settled in England around 1667. Gibbon's workshop is most celebrated for the virtuoso wood carvings and reliefs produced for royal and aristocratic patrons, such as the work carried out at Hampton Court, Windsor Castle and Petworth House, Sussex. His workshop also produced statuary and church monuments in stone and marble and statues cast in bronze.
Bibliographic References (Citation, Note/Abstract, NAL no)
Beard, Geoffrey. The Work of Grinling Gibbons. London: John Murray, 1989. pp.16, 186, fig.5.
Whinney, Margaret. Sculpture in Britain 1530-1830. London: Penguin Books, 1988. pp. 116-117, fig.74, p.442, n.28. (Second edition, revised by John Physick)
Molesworth, Hender Delves. Sculpture in England. Vol. 2 : Renaissance to early XIX century. London : Published for the British Council by Longmans, 1951.p.14, plate XXI.
Brown, Frank Percival. London sculpture. London: Sir I. Pitman & Sons, ltd., 1934. (English art series; influences and developments in the progress of art in Britain. vol. III) p.53.
Williamson, Paul, ed. European Sculpture at the Victoria and Albert Museum. London : Victoria and Albert Museum, 1996. pp.146-147.
[Collins Baker, C.H.and Muriel I. Baker. The Life and Circumstances of James Brydges, First Duke of Chandos. 1949. p.166, n.2.]
Jenkins, S. Portrait of a Patron. The Patronage and Collecting of James Brydges, 1st Duke of Chandos, (1674-1744). Aldershot. 2007. pp. 67, 147 and fig. 35 on pp. 148.
Bilbey, Diane with Trusted, Marjorie. British Sculpture 1470 to 2000. A Concise Catalogue of the Collections at the Victoria and Albert Museum. London. 2002. pp. 4-5. cat. no. 4.
Trusted, M. The Making of Sculpture. The materials and techniques of European Sculpture. London, 2007. pp. 133. pl. 249.